What's On
Special Offers and Entertainment
UFC 212 Aldo vs Holloway
UFC featherweight champion Jose Aldo returns to the Octagon as he looks to unify his title against interim champion Max Holloway at UFC 212 in June.
Aldo is coming off a strong win over Frankie Edgar at UFC 200 for his 19th win his last 20 fights and he looks to continue his legacy as one of the most prolific champions in UFC history.
Holloway dropped back to back fights in 2013 but since then has reeled off an incredible 10-fight win streak, including a third-round TKO of Anthony Pettis to win the interim belt last December.
Also on the main card, two of the best strawweights in the world face off when Claudia Gadelha takes on Karolina Kowalkiewicz in a bout that could see the winner challenge for the title their next time out.
Absolutely 80's
Buy Tickets Online
Absolutely 80s Band celebrates 11years of touring with their '1 Louder Tour'
Without doubt, the 80s has been the most memorable and massive decade of music.
Direct from the 80s and the Australian 'Countdown Era' these idols of the oz music scene are touring in 2017 in one big show!

The Absolutely 80s Band features some of Australia's favourite pop icons:
Brian Mannix - Uncanny X Men
Scott Carne - Kids in the Kitchen
Dale Ryder - Boom Crash Opera
Paul Gray - WaWaNee
Play all of their big hits including 'Everybody Want to Work', 'Change in Mood', 'Onion Skin', 'Stimulation' ,'50 Years', 'Current Stand' ,'Best Thing','Sugar Free 'and loads more chart-toppers.
'The 1Louder Tour' marks 11 years of touring for this super group. To quote the infamous Nigel Tufnel, 'guitar rock god' from 'This Is Spinal Tap': "This guitar amp goes up to 11". And that's exactly what the brand new Absolutely 80s show does - it's going to push the limits of fun, excitement, energy and great Aussie music over the edge!
It's a high octane two hour show with Australia's biggest 80s hits, sung by the guys that sang 'em back then. On your radio and on Countdown. These are the guys that Molly was, um, talking about when he said: "Do yourself a favour and go buy their records". They're the real deal. Sure, they've been around but that's what makes 'em so damn good!
So, get ready to rock out with your er, whatever takes your fancy. It's time to get loud, get sweaty and get dancing as the hottest 80s show in the country, the Absolutely 80s '1Louder Tour' amps the dial up to 11!
From $33
Tickets available at venue
Booking fee may apply
18+ Only - Photo ID required
Doors Open from 8pm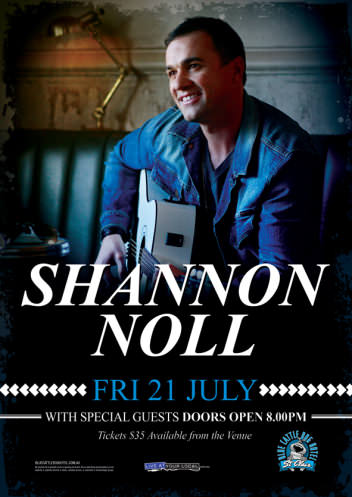 Shannon Noll
Buy Tickets Online
Shannon Noll makes a return to The Blue Cattle Dog Hotel in July. He blew the house down in his concert last year, and now you have the chance to see him live again. He will be playing all of his favourite hits including a crowd favourite "What About Me" and more.
$35
Tickets available at venue
Booking fee may apply
8pm
Star Quiz
Wednesday nights
Why not come down and enjoy a great family night and exercise your brain cells with Star Quiz?
It's free to play and great prizes to be won. There is also a secret sounds that jackpots weekly if not won. Don't miss the fun.
This is a FREE event
18+ Only - Photo ID required
Clipp the Bar Tab App is Now Here
Clipp the Bar Tab App allows you to pay for food and drinks directly from your smartphone.
Simply download the app and connect a credit card to your account.
Set your tab limit and flash your phone when placing your order.
View all your purchases in real time and when you're ready to leave, simply close the tab from your phone.
Come and give it a go! http://clipp.co/
See staff for details and conditions.
MONTY'S REWARDS
Monty's Rewards provides members with a range of benefits including membership points, food and beverage discounts, bonuses, prize draws and birthday offers.
Make your visit count with Monty's Rewards.
For more information visit montysrewards.com.au or see a staff member today.